Overview
Greenbelt Lake, also known as Greenbelt Reservoir, is located 4 miles north of the city of Clarendon, Texas in Donley County. Kelly Creek and Salt Fork are tributaries of Greenbelt Lake and all are part of the Red River Basin. The compacted-earth dam is used for municipal, industrial and mining water supply and is owned by Greenbelt Municipal and Industrial Water Authority.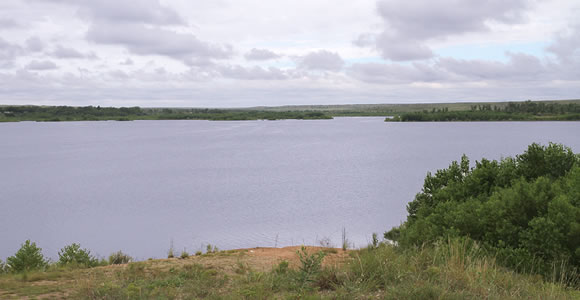 Sources:
http://www.twdb.texas.gov/surfacewater/rivers/reservoirs/greenbelt/index.asp
https://tshaonline.org/handbook-search-results?arfarf=greenbelt%20lake
http://www.clarendonlive.com/?p=18640

History
Construction of the dam and reservoir was authorized by the Texas Water Commission in August of 1958 (Permit No. 1917). Freese, Nichols and Endress began construction of the dam in April of 1966 and was completed in March of 1968 by Adams Construction Company. The dam measures 5,800 feet long by 110 feet high and controls a drainage area of 288 square miles. The reservoir has a storage capacity of 59,800 acre-feet and a surface area of 1,990 acres. The dam features two spillways; one for emergencies and one for services. The service spillway features an uncontrolled drop inlet; a type of catch basin that connects above and below-ground water flow. The maximum depth of the reservoir is 84 feet with an average depth of 30 feet. Greenbelt Lake supplies popular sportfishing breeds: bass, crappie, walleye and catfish. This area has experienced some intermittent drought conditions and boat access has been limited to one low water ramp. The lake houses aquatic vegetation including pondweed, coontails and cattails. Vegetation is dense around shoreline areas and coves.
Sources:
https://tpwd.texas.gov/publications/pwdpubs/lake_survey/pwd_rp_t3200_1303/
http://www.twdb.texas.gov/surfacewater/rivers/reservoirs/greenbelt/index.asp

Statistics
Primary Purposes:

Flood Management, Water Storage

Location:

Donley

Construction Dates:

1966 to 1968

Lake Area:

1,990 acres

Maximum Depth:

84 ft

Average Depth:

30 ft
Dam Statistics
Dam Dimensions:

110 feet high

Spillway Elevation:

2,674 feet above msl

Top of Dam:

2,686 feet above msl
Current Conditions
View all current conditions at waterdatafortexas.org